The Laurels of Fulton Staff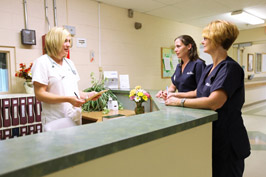 What differentiates one skilled nursing & rehabilitation center from another? The answer is... the people who work and reside there! The people set the tone, the atmosphere, and the expectations. At The Laurels of Fulton, we take great pride in ensuring that everyone feels like part of our family, and that they are treated as special "guests" in our home.
The Laurels of Fulton employs a team of highly qualified medical professionals, including a Medical Director, Registered Nurses, Restorative Care Nurses, a Wound Care Nurse, state tested Certified Nursing Assistants, Physical Therapists, Occupational Therapists, and a Speech Therapist. Our on-site Rehab, Dietary, Social Work, and Activities departments provide personalized and compassionate care to each guest. From the moment you walk through the front doors, the warmth and caring of the staff will begin to gain your trust and confidence, as they strive to exceed your expectations.
Unlike other facilities that use "contracted" staff members, each member of the team at The Laurels of Fulton is directly employed, not "contracted". Each Team Member takes great pride in portraying "The Laurel Way of Caring", as they strive for excellence in providing only the highest standard of care and services to every guest, and to every family member and visitor. Come on in! Visit a while! Let us show you our very best... let us show you The Laurel Way.
Monica Brenna, RN, MSN, NHA, Administrator
Monica joined the Laurel team in 2008 and has worked in the clinical direction for almost 8 years. She started her career as a nursing assistant working very closely with her residents learning to give good quality care. Monica holds a Master's in Science and Nursing and has enjoyed her 18 year career as a Registered Nurse. She has always worked with the geriatric population and thrives on ensuring that residents received the best possible care available. Monica lives in Alma with her husband of 26 years and enjoys spending time with their 2 children and 2 grandsons. When not working Monica enjoys running, camping, and spending time with her family.
Dawn DeCamp, Director of Nursing
Dawn DeCamp is a caring, compassionate, team-oriented, Registered Nurse. She started with The Laurels of Fulton in 2016 after 23 years of experience in Long Term Care. Dawn's caring attitude, love for the residents, families and staff shines amongst all that work with her. Dawn, together with her supporting team, make Laurels of Fulton a comfortable home like environment where people feel supported and cared for. The residents, families, and staff are very grateful to have Dawn and her caring and compassionate heart as the Director of Nursing.
Samantha Van Etten, Director of Marketing
Samantha became a member of The Laurels in January 2016 after several years of experience in the healthcare field she has been with the Laurel Health Care Company for almost 13 years as starting with the company with her Certified Nursing Assistant. Samantha attended Lansing Community College with a degree in business. Since then, she has worked the skilled nursing field helping bring awareness to the communities. She resides in Fowler with her spouse and 2 beautiful children. In her leisure time Samantha enjoys boating, spending time at her cabin in Houghton Lake with her family.